Did you have a pen pal when you were growing up? I had a really lovely one called Caroline. She was from Northern Ireland and we met when our families were both on holiday in Spain.
I can't remember much of what we used to write about, but I do remember the thrill of getting her letters.  I just loved seeing a pretty envelope or postcard appearing in the letterbox with my name on it.
In this digital age where spam emails crowd our inboxes and social media pings all day and night, a handwritten letter is even more special, don't you think? There is something so personal, intimate even, about reading a friend's handwriting. An email just can't compete.
I had been despairing about all the junky, spam nonsense in my email inbox the other day when Alex got in from work and handed me this beautiful postcard, sent all the way from Helsinki, Finland.
Isn't it lovely? Even the stamp is beautiful!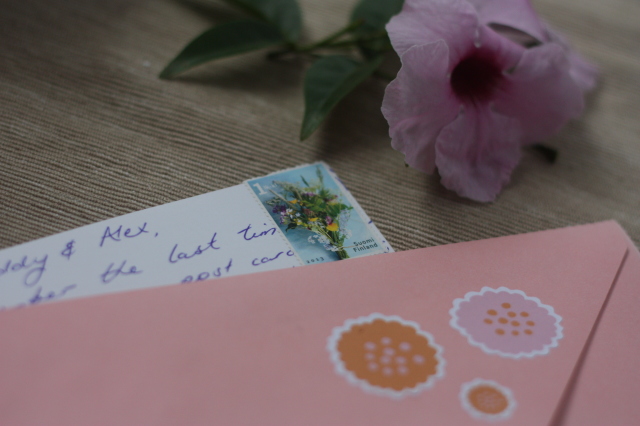 My Beijing buddy Aleasha, who has recently relocated to Finland, had told me the card was coming, but it was still such a thrill when it landed. To think it had travelled all the way from Helsinki to Sydney: across the world, from her hands into mine. Isn't that kind of amazing?
Getting this card reminded me of my other 'pen pal', my Gran. We started writing when I was at university, but our correspondence really began once I moved to Australia.
Gran wrote the most brilliant letters (always on blue aerogrammes). She wrote exactly as she spoke and never failed to make me laugh with her stories.
When she died in September last year (at the grand age of 92) I felt so thankful for those 11 years of letters she sent to Australia and later to China (although the postal system foiled us somewhat there!).
They are all tucked away safely upstairs, and now next to them are bundled all the letters I sent back to her. When I read her letters, I can hear her chatting, telling me how gorgeous baby Teddy is, that my Dad popped round to see her on Sunday, that it was fine to use margarine in Welsh cakes, but whenever she was 'feeling rich' she'd make them with butter. Those bits of paper are priceless.
I have a little parcel to send back to Finland (it really is little, Aleasha!) and in it is a handwritten note. It's a bit scrawled, my handwriting is atrocious, but it contains a lot of love and a bit of Sydney sunshine for my friends on the other side of the world.
I'd love to know, do you ever write letters to friends and loved ones? Have you got a pen pal? There are some wonderful snail mail exchanges happening in the blogosphere at the minute. I'm keeping my eye on a couple (especially Sam Dunne's wonderful Creative Exchange) and would love to take part next time round. x